Commercial trucks and equipment can be very expensive to buy outright. The majority of trucking companies, whether large to small, often find themselves depending on commercial truck financing to lease or buy what they need, whether that's a flatbed, tipper, semi, curtainsider, box body, temperature-controlled body, Luton peak body, a road tanker, or other related equipment required to keep the truck operating. In this blog, we'll share 5 tips to help you get the best truck finance in Australia.

Despite the reliance on truck finance for purchasing essential trucks for business, the process of obtaining financing can be extremely challenging and be confusing at times.
To increase the chance of gaining approval for financing, businesses must first understand the process of how to apply in order to finance a truck, and exactly how to go about obtaining a loan and get it right the first time.
The criteria used by a finance broker
To get truck finance in Brisbane, Sydney, Melbourne, and all around Australia, commercial truck companies must meet several criteria which a finance broker takes into strong consideration when determining whether a business can meet their repayment obligations, and pay off the loan promptly.
Such criteria usually includes specific information in regards to the company applying for the loan, including how long the business has been conducting business operations. Some truck financing companies require businesses to be well-established before approving commercial truck financing as this significantly increases the chances of the truck loans being paid back in full, and on time.
However, there are also options for truck and equipment finance for new businesses, as well as businesses which have a short trading history.
Having an outstanding credit history with a sound financial background will help to increase the business' chances to be granted truck finance with an affordable interest rate. Before applying for a truck loan, a company needs to ensure they have all the correct financial information and records to present, as well as detailed income and tax information. Financing companies are more likely to approve a loan to a company which can demonstrate they pose a low credit risk due to a history of sustained profitability.
Other main factors include the type of commercial truck which is being financed, as well as the type of loan which has been requested. Loans with longer durations are becoming progressively harder to find, which is due to the greater risk the truck finance broker has to take on.
When trying to finance a truck, simply by choosing to buy a second-hand truck or a cheaper model can help improve the chance of securing a truck loan from a broker.
Owners with bad credit or first-time truck buyers, still have a better chance of receiving approval by looking for brokers who specialise in offering financing to meet these exact requirements.
Being well-organised, and doing extensive research will help any business work out how to finance a truck at an affordable price. It can be quite challenging successfully obtaining truck finance from a broker who is not already familiar with all things trucks, including their utility, cost of equipment, and their benefits, to understand the need for financing.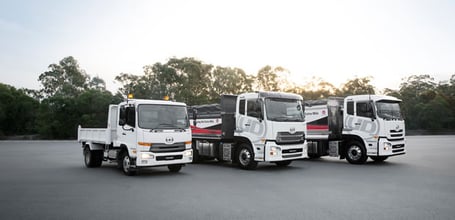 A commercial truck finance broker has a better understanding to assess the loan more accurately, including any risks involved. They also have access to more lenders, and can negotiate an affordable package for the truck purchaser.
Tip 1 - Work out how much money you need
Before meeting with a broker or lender, it is advisable to work out an estimated amount of money you will need to borrow, as well as proposing repayment options, and calculating the desired length of the loan. There are lots of great truck finance calculators available online, or contact us to help you.
Tip 2 -
Decide on the truck you would like to buy
It is critical to research in advance on the truck you would like to buy. By listing the exact commercial truck you have been considering will help the truck finance broker to work out whether the selected truck is suitable and sustainable to reach the desired business outcomes.
Tip 3 - Forecast your cash flow
The biggest factor in being approved for a truck loan comes down to the company's cash flow. If your company has been doing business for over two years and your financial records are an accurate representation of your current cash flow, then this is predominantly enough information for a truck finance broker to offer you approval. It is however recommended to hire a professional and qualified accountant to create an accurate cash flow forecast in case additional information is required.
Tip 4 - Work out your assets & liabilities
When you apply to finance a truck, a broker will consider your assets and liabilities while evaluating the company's finances. It is advisable to prepare an A&L statement to the best of your abilities, which includes current repayments, current debts, and any other investments you currently may have.
Tip 5 - Work out the most suitable loan type
There are lots of different truck loans and stipulations available, so it is crucial to establish exactly what type of loan you want in advance. Usually, this comes down to whether you account on an accruals basis, or a cash basis, then selecting from the most common options of a hire purchase, lease, or chattel mortgage. It's best to consider all options with your accountant first, as they have a better understanding of your business requirements and financial status.
Are you ready for the next step?
eCarz is a Brisbane based truck broker, serving the whole of Australia, we are highly reputable and offer easy truck finance starting from a low 4.79%. In partnership with 1800 Approved, we offer a choice of over 30 lenders, and provide flexibility to suit your needs, while providing the best deal possible.
We offer an obligation-free and sound financial advice - it's a quick and convenient option comparison, with quick finance quotes and approvals. Obtaining commercial truck financing has never been easier!
Happy Truckin'!